Ethicare stands at the forefront of National / Multinational Pharmaceutical manufacturing standards in the new millennium.
Founded in 1978 in the name and style of J.K. Pharmaceuticals, a Bulk Drug manufacturing unit, carried out manufacture of Chloramphenicol, Chloramphenicol Palmitate, Citrates and Iodides with its major buyers, at that time, being RDPL, Somatico to name a few. This was all done under the able guidance of Mr. J.S. Anand who holds a Master's Degree in Organic Chemistry. He, now, has a work experience of more than 39 years in the pharmaceutical field.

Ethicare's most modern manufacturing plant was erected in 1999 at Jammu. Today Plant is ISO-9001:2015 certified and also Good Manufacturing Practices (GMP) certified under revised Schedule 'M' of the Drugs & Cosmetics Act. The activities include manufacture of Products of Pharmaceutical Division, Generic Division and Animal Health Division. The plant is cGMP/GLP Compliance also.

Ethicare has a strong element of Corporate Social Responsibility inscribed in its values and its concern for the society extends well beyond its business motives. The company does not view success and achievements in terms of commercial gains only but firmly believes that corporate social responsibility is the key for providing a deep symbiotic relationship that exists between the company and the environment it functions.

With a keen eye on cost effectiveness, productivity and relentless pursuit of stringent quality standards Ethicare stands at the forefront of National / Multinational Pharmaceutical manufacturing Standards in the new millennium.

Pharmaceutical Research, being an integral part of R&D, comprises of product, packaging and process development departments and is responsible for dosage form development.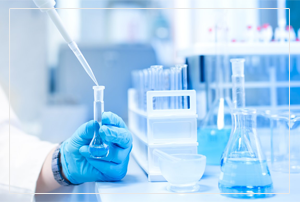 Our Values
Engineering
Company has its own engineering plant where it manufactures pharmaceutical machinery as per the requirements of our pharmaceutical division, which are made in conformation with the requirements as per GMP Standards.
Use of outside Scientific Analytical or Other Technical Assistance in Relation to Manufacturing and Analysis.
ETHICARE LABORATORIES is self-sufficient as far as analytical and product development activities are concerned, ETHICARE LABORATORIES has facility to carry out test chemical / instrument / Microbiology & Pharmacology (All major instrument like UV/VIS Spectrophotometer, HPLC, BOD, Incubators are installed).
Ethicare Laboratories take help of following institutions for testing samples of some of the specific need.