Quality Control &
Quality Assurance
ETHICARE LABORATORIES' products are manufactured under strict quality control procedures in Good Manufacturing Practices certified production facilities, using modern scientific tools and techniques. Stringent quality control and continuous quality checks are a part of every batch and process at Ethicare and a part of our long-term approach, adding to our quality competence. Modern Good Laboratory Practices are employed to ensure the quality of the products being manufactured. ETHICARE LABORATORIES' highly qualified professionals possess expertise in method development and validation for new molecules with special emphasis on impurity profiling, particle size analysis, stability and integrity assay methods, and in-vitro dissolution profiling.

Quality Control manuals are observed and their methodology followed. From time to time the products are upgraded to improve quality, stability, shelf-life & reduce cost & overages. Ethicare's well-defined Quality Policy coupled with stringent Quality Control and Quality Assurance specifications and parameters assure safe, efficacious and quality products for the ailing masses.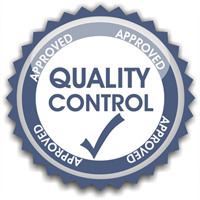 The key activities under Quality Control are:
Ethicare's Quality Assurance set up has a state-of-the-art facilities with properly trained & qualified staff, highly sophisticated modern analytical instruments with well designed, spacious laboratory. Product Quality Assurance is ensured through periodic monitoring/auditing of production and laboratory areas to comply with Good Manufacturing Practices.
Major activities of Quality Assurance:
Short description of the Quality managment system of the firm responsible for manufacturing :