Pharmaceutical Research, being an integral part of R&D, comprises of product, packaging and process development departments and is responsible for dosage form development.

ETHICARE LABORATORIES' pharmaceutical development activity allows us to develop a wide range of dosage forms and value added line extensions such as: Tablets, Capsules, Sterile Products (Powders & Liquids), Dry Syrups, Liquid Orals, Ointments, Food Supplements & Veterinary Preparations.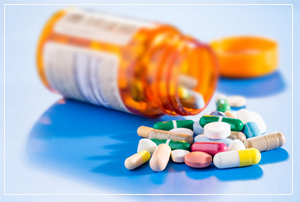 Pharmaceutical Division
ETHICARE LABORATORIES' products include a wide range of therapeutic segments, which include Antibiotics, anti-bacterial, anti-tubercular, anti-ulcerants, dermatological, cardiovascular, cough and cold preparations, pain relievers etc.

The Pharmaceutical Division has further grown during last seven years by foraying into contract manufacturing for Pharmaceuticals Companies of repute.
ETICARE LABORATORIES' Animal Health Division has a wide range of more than 200 products in Tablets, Liquids, Powders, Ointments and Injectables (Liquids & Powders) for poultry, Large Animals & Pet segments. The Company is involved in contract manufacturing for:
ETHICARE LABORATORIES' own operations in domestic market cover entire length and breadth of India through a well-networked distribution system and field force. We manufacture and market more than 100 pharmaceutical formulations. Our field staff, backed by our professional marketing division and modern manufacturing plant, ensures easy access for new products. Our field forces are IT enabled and segregated into discrete divisions with a disease focus to improve customer coverage. The sizes of the field force and the strong training and motivation inputs that are continually provided have enabled the company leverage scale and penetration significantly. This can be seen from the fact that despite severe competition across the market, our company has maintained its prescription trend and price lines across key segments.